New Start for Jazz Singer and Actress Linda Purl
Longtime collaborators, music director Tedd Firth and vocalist Linda Purl pair up again for their fourth album, This Could Be the Start. The tunes collectively explore what happens when you stand on the edge and take the leap. Things go right, things go wrong too, love awakens, deepens, is lost and yet is inevitable. Together with master musicians David Finck, Ray Marchica and Nelson Rangell, This Could Be the Start is sure to get you started.
Besides being Richie Cunningham's girlfriend, Fonzie's fiancée on Happy Days, Matlock's daughter Charlene Matlock, Pam's Mom/Steve Carell's girlfriend on The Office, Homeland (Elizabeth Gaines), True Blood (Barbara Pelt), Kathy Vance on Hacks. She has starred in over 45 made-for-TV movies. She is currently recurring on The Bold and the Beautiful.
Broadway credits are: The Adventures of Tom Sawyer; Getting and Spending. Numerous Off-Broadway and regional performances include: Mr. Toole, The Baby Dance, The Children, The Merchant of Venice, Romeo and Juliet, A Streetcar Named Desire. The Road to Mecca and Tusitala (both with Miss Julie Harris), A Doll's House, Dinner with Friends (original production), The Year of Magical Thinking, Oliver, Grease, On a Clear Day You Can See Forever, Three Penny Opera, The King and I, Tenderly…at such theatres as Long Wharf, The Old Globe, Mark Taper Forum, Santa Fe Opera, The Lensic Santa Fe, Berkeley Rep, Ensemble Theatre Company, Williamstown Theatre Festival (six seasons), Theatre Princesse Grace, Monaco; Imperial Theatre, Tokyo, Japan. 2022 BKL, UK national tour, Catch Me If You Can. Partial film: Mighty Joe Young, Bender, The Walking Major, Leo and Loree, Sundays, Paul's Promise.
Born in Connecticut, Purl grew up in Japan, becoming the only foreigner to have trained at the Toho Geino Academy. Her studies continued at Neighborhood Playhouse and Lee Strasberg Institute. She was Founding Director of the California International Theatre Festival. Purl and Music Director Tedd Firth currently tour with solo concerts Midnight Caravan, I'm in the Mood and Taking a Chance on Love. Past concert venue appearances include Catalina Jazz Club, 54 Below, Birdland, Naples Philharmonic, Colorado Springs Symphony, Crazy Coqs in London, Club Raye in Paris and Satin Doll in Tokyo.
Players: instrument:
Linda Purl: vocals
Tedd Firth: piano
David Finck: bass
Ray Marchica: drums & percussion
Nelson Rangell: Reed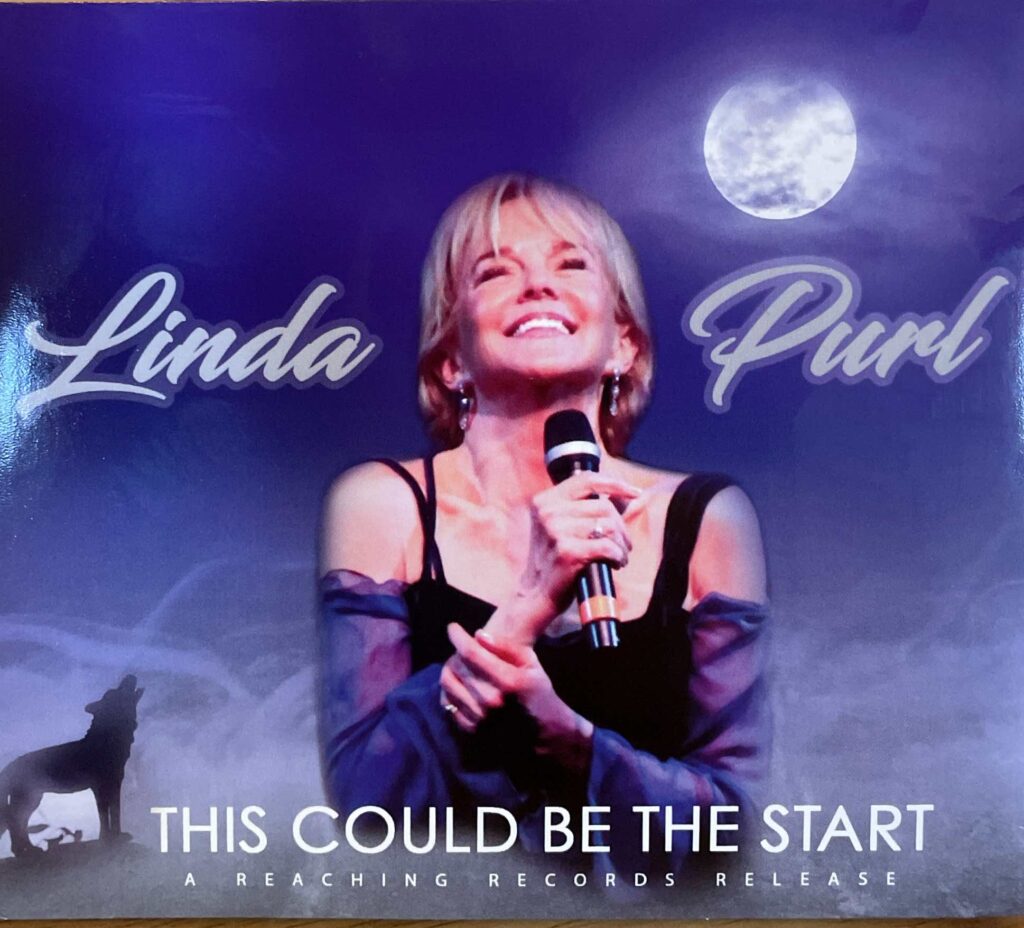 TRACKS:

1. THIS COULD BE THE START OF SOMETHING BIG
Composer/Lyricist Steve Allen 2:48
2. I'M IN THE MOOD FOR LOVE
Composer Jimmy McHugh
Lyrics Dorothy Fields. 3:21
3. LET'S GET LOST
Composer Jimmy McHugh
LyricsFrank Loesser. 4:57
4. BLUE MOON
Composer Richard Rodgers
Lyrics Lorenz hart 5:09
5. DREAM DANCING
Composer/Lyricist Cole Porter. 4:22
6. LET ME DOWN EASY
Composer Cy Coleman
Lyrics Carolyn Leigh. 4:53
7. LIVE ALONE AND LIKE IT
Composer/Lyricist Stephen Sondheim. 3:54
8. TWO HEARTS ON LAWNS
Composer Carla Bley
Lyrics Sara Teasdale 5:49
9. HOW HIGH THE MOON
Composer Morgan Lewis
Lyrics Nancy Hamilton. 4:04
10. NOT WHILE I'M AROUND
Composer/Lyricist Stephen Sondheim. 3:25
11. I LOVE BEING HERE WITH YOU
Composers/Lyricists Peggy Lee and Bill Schluger. 3:20
12. WRAP YOUR TROUBLES IN DREAMS
Composer Harry Barris
Lyrics Ted Koehler and Billy Moll. 3:14