Dear Friends,
Trust all continues well in your world as we collectively, please Lord, continue to emerge from the darned bug. I've had the privilege and fun now of attending two live concerts and oh boy did that ever feel good.  Can't wait to get to the theatre, finally, for a live performance as well.  I realize now that I've always taken being able to attend live events for granted. Never again.
Taking the liberty of letting you know about a couple of live events I'm involved with …  Opened this past weekend in the musical about the great Rosemary Clooney, Tenderly, at Ensemble Theatre Company with the exceedingly wonderful David Engel.  Oh my, what a talent. If you happen to be near Santa Barbara, hope you might attend.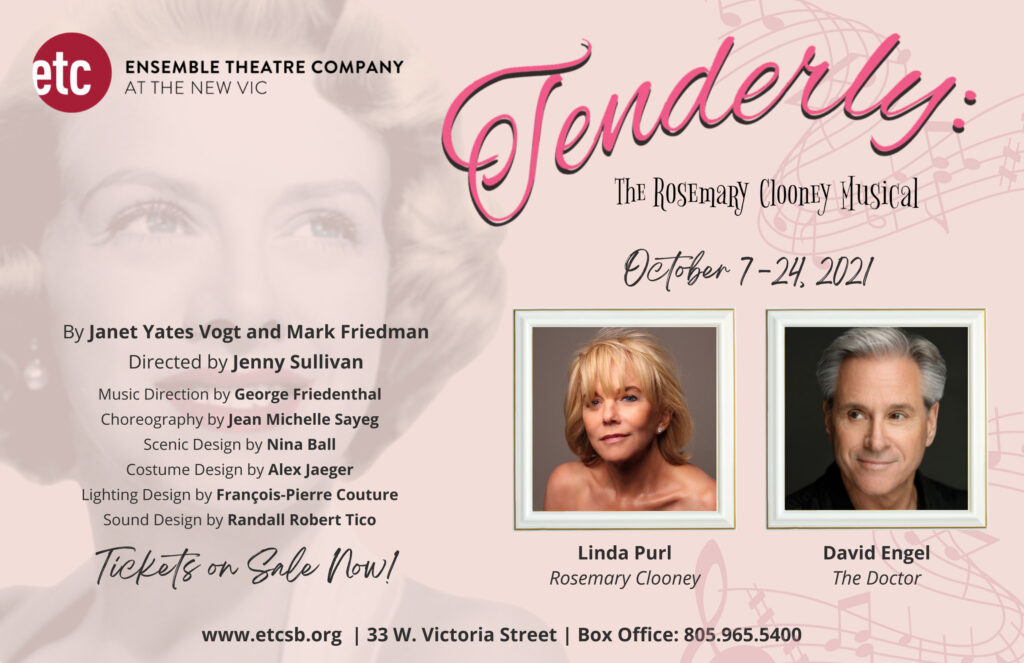 Pretty sure that in the coming days, there will be a link up on the theatre site to buy tickets for the play to be streamed during our run. We filmed it yesterday…and funny, somewhere in the first act a tiny cut on my thumb reopened and began to bleed fairly profusely. We kept going of course, but what with lovely pale pink furniture and a pale blue dress on, the only place I could "put" the blood safely was on the back David's maroon sweater during a dance number. All part of the adventure. Mercifully our wardrobe mistress forgave me. 
Come November, I'll get to return to NY. Cannot wait. Info is below for a night I'm greatly looking forward to, Nov 7 at Birdland. The gorgeous and gifted Billy Stritch will be at the helm, joined by stellar pals drummer Ray Marchica and bassist Dave Finck. Birdland is one of the live performance venues that has heroically survived the pandemic. Everyone who works there made sacrifices to make it so. Also, the community at large dug deep and collectively donated enough to keep the legendary venue afloat. Most wonderful!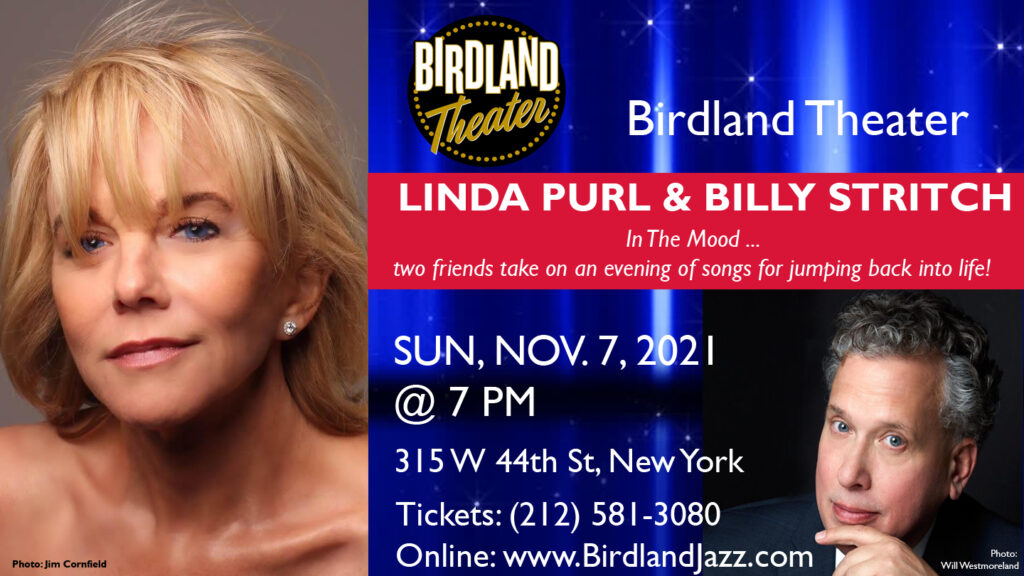 The Birdland Theater is located at 315 West 44th Street, New York, NY 10036, telephone (212) 581-3080.
Should be a fun night and very grateful to be ringing in the new year with music and friends.
A few bits and bobs… our CD Taking a Chance on Love, can be bought Here, also digitally on Amazon and iTunes. Should you care for a personalized video greeting for yourself, family member or pal, please put in your request to me on the Cameo app. I've been loving doing them! Here's a link to my YouTube Channel which features new and old videos with more to come… and lastly, should it be of interest a blog on life and adventures at bluepearl.blog.
Stay safe, stay resilient.
Ever grateful,
Linda
Born in Connecticut, Purl grew up in Japan, becoming the only foreigner to have trained at the Toho Geino Academy. Her studies continued at Neighborhood Playhouse and Lee Strasberg Institute. She was Founding Director of the California International Theatre Festival. Purl currently tours… [ Read More ]