Up Jumped Spring : Linda Purl, Tedd Firth, Nelson Rangel
A sultry, nuanced celebration by world class musicians of life's unexpected twists and turns.
Track Listing: There'll Be Some Changes Made / Got a Lot of Livin' to Do, Anyplace I Hang My Hat Is Home, Pick Yourself Up, My Foolish Heart, Nobody Else but Me, I Wish You Love, Starting Over, Up Jumped Spring, It Amazes Me, Something's Coming, If You Want the Rainbow
Available at: cdbaby.com, amazon.com, iTunes
---
Midnight Caravan : Linda Purl, 

Tom Wopat, Desi Arnaz Jr.
Straight from New York's Feinstein's at the Regency, Midnight Caravan salutes the great women singing stars of the 1940s and '50s-from Ella Fitzgerald to Judy Garland to Rosemary Clooney-as they reign over the swanky, sexy supper clubs of the era. From sultry ballads to hot Latin jazz arrangements of Broadway tunes, the show features classic standards like My Romance, Shall We Dance and Caravan.
Track Listing: I Feel a Song Coming On, Let Me Love You, Autumn in New York, Them There Eyes, L'etang, I Thought About You, Oh Me, Oh My / Cheerful Little Earful, Easy Living, Shall We Dance?, My Ship, Spring Again, Caravan, My Romance, It's a Pity to Say Goodnight, 'Tis Autumn
Available at: amazon.com and iTunes
---
Out of This World [LIVE] : Linda Purl, Desi Arnaz Jr.
"Purl in concert is pure magic." — Travis Michael, Holder Entertainment Today
Track Listing:
The Best is Yet to Come, Happy Madness, Midnight Sun, Good Night Kiss, You've Changed, This Time, Tomorrow, Introductions, You Go to My Head, Too Close for Comfort, A Chat with Desi, Forever's All We Know, Out of This World, I'll Be Seeing You, Where Do I Find Love, Blue Window, Come Rain or Come Shine, Thank You, Sweet Beginnings
Available at: amazon.com and iTunes
---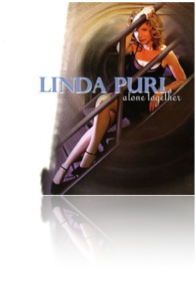 Alone Together : Linda Purl
Release Date: 1998
Track Listing: Our Day Will Come, This Girls In Love, Hold Me, Thrill Me, Kiss Me, Alone Together, I Can't Let Go Now, Teach Me Tonight, Slow Dancing, Nice And Easy, The Nearness Of You, (I'm Afraid) The Masquerade Is Over, I'll Be Around, Are You Lonesome Tonight?, You're My Thrill, My One And Only Love, That's All
Available at: amazon.com