WELCOME!
Thank you for visiting. Trust your winter is bringing you all the joy you deserve and that your New Year is off to a spectacular start.  Crackle series The Oath

 which I got to be a part of will begin airing in March.  We

 filmed it in beautiful Puerto Rico…

powerful writing, strong stories and oh boy what a fabulous cast! 

Ryan Kwanten, Sean Bean, Elisabeth Rohm

 and so many more. 

50 Cent 

is amongst our producers and I'm thrilled to be on board.
I have a few concerts and performances coming up..so very much hope if I'm in your 'hood that you'll attend.
Two new charities are pulling on my heartstrings..
Tony saw a need and filled it…his organization now runs multiple gardens feeding and educating as he goes one healthy crop at a time.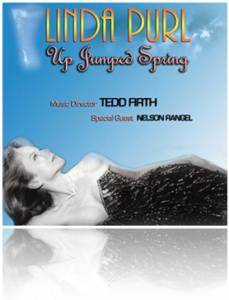 I'm also so happy to announce the release of
UP JUMPED SPRING
, our newest CD with Musical Director
Tedd Firth
and very special guest star saxophonist
Nelson Rangell
. 
You can buy it here
!
Stay healthy and hopeful!
Wishing you and yours a wonderful 2018.