WELCOME!
Thank you for visiting. I'd love for you to browse the site…see if any upcoming concerts will be in your neighborhood. If so, I very much hope you'll attend.
Also, two charities are pulling in particular on my heartstrings. The Robert and Heather Urich Foundation dedicated to Cancer Research. Bob and Heather were remarkable people and I'm privileged to say dear friends. Even as I write this its hard to believe neither of them are with us anymore. That said, their good works continue through the research their foundation helps support.
The other is Harlem Grown founded by the amazing Tony Hillery. Tony saw a need and filled it…his organization now runs multiple gardens feeding and educating as he goes one healthy crop at a time.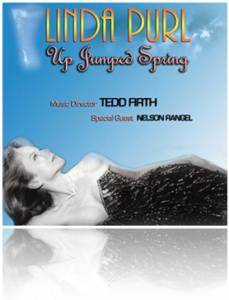 UP JUMPED SPRING, our newest CD with Musical Director Tedd Firth and very special guest star saxophonist Nelson Rangell. Here's a link to the Birdland concert with DIVA Jazz Orchestra. SOOO much fun!https://www.youtube.com/watch?v=JUwrBYm7Jxo Stay healthy and hopeful! Linda
---