WELCOME!
Thank you for visiting.  Trust spring is off to a spectacular start.  New series The Oath which I got to be a part of is up on Crackle.com  Hope you'll check it out.  We filmed it in beautiful Puerto Rico…powerful writing, strong stories and oh boy what a fabulous cast! Ryan Kwanten, Sean Bean, Elisabeth Rohm and so many more. 50 Cent is amongst our producers and I'm thrilled to be on board.
I have a few concerts and performances coming up..so very much hope if I'm in your 'hood that you'll attend.
Two new charities are pulling on my heartstrings..
The Robert Urich Foundation dedicated to Cancer Research http://www.urichfoundation.org  and  Harlem Grown founded by the amazing Tony Hillery  http://www.harlemgrown.org/about/
Tony saw a need and filled it…his organization now runs multiple gardens feeding and educating as he goes one healthy crop at a time.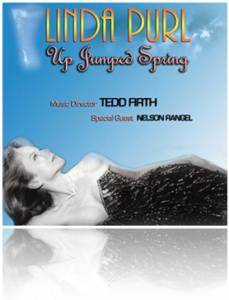 UP JUMPED SPRING, our newest CD with Musical Director Tedd Firth and very special guest star saxophonist Nelson Rangell.
Here's a link to the Birdland concert with DIVA Jazz Orchestra. SOOO much fun!
Stay healthy and hopeful!
Linda
---